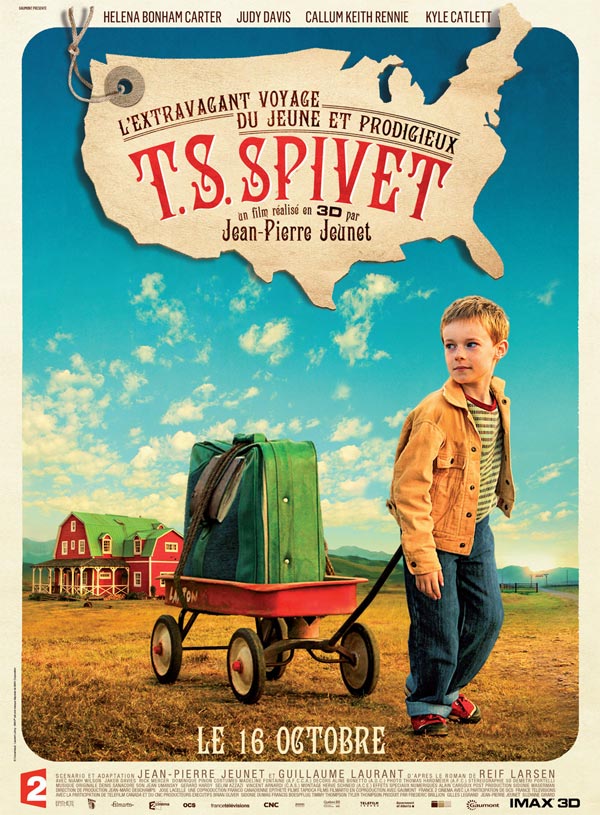 THE YOUNG AND PRODIGIOUS T.S.SPIVET
2013. Director: Jean-Pierre Jeunet
Starring:Kyle Catlett, Helena Bonham Carter, Judy Davis, Callum Keith Rennie…
Production: Epithète Films + Tapioca Films Paris
SHOT IN 3D
J.-P. Jeunet website: http://jpjeunet.com
French César Award for Best Cinematography 2014
Best 3D feature Film – International Film Festival of Cinematography Camerimage 2014
Jury Member of Directors' Debuts Competition Camerimage 2014



























The first time I met Jean-Pierre Jeunet to discuss his upcoming project, he told me that he was looking for somebody who could help him to push a little further his taste for contrasty and colorful images without having the golden look(although he loves this so much) all over the film. Of course I was very delighted by the perspective to work in his special « universe », which by the way inspired me for such films I shot like : « I, Cesar », A Butterfly Kiss » and « Tribulations d'une caissière »
He told me also that the plan was to shoot in 3D with the stereographer Demetri Portelli who shot « Hugo » for Martin Scorsese. To have a maximum 3D effect he wanted to have deep focus and very crisp images and to use only organic mirrors. He also planned to shoot the whole movie on a 21 or 25mm (with some exceptions of course). This was a great challenge for me because I usually prefer to use normal or long lenses. Also he precised to me that it was him who will decide about the framing and camera movements and therefore he wanted to choose himself our operator/steadicamer and even our key grip !
So that was the framework for me. Everything was planned very precisely in advance and I had time to work on the style and conception of my lighting. During the shoot I really concentrate on lighting the faces of our actors and the sets. This was a very inspiring experience for me.
I had 8 weeks of prep and 75 days of shooting. We started in Montreal, went to Alberta and back to Quebec. We were extremely lucky with the weather over our whole period of shooting. We graded each shot on set and edited each shot while progressing during the shooting day.
During the final grading of the 2D and 3D version at Digimage in Paris(Expand System with active glasses !!) we refined with the help of my grader Fabrice Blin our choices from the rushes and pushed the preconceived look further. Jean-Pierre guided us with a lot of trust and taste.
DIFICULTY IN 3D
– to light a close up with a 21mm or 25mm , because of the size of the mirror box
– you can't use any diffusion filters for close ups
INSPIRATIONS
– No Country for Old men, The Assassination of Jesse James by the coward Robert Ford -Photographs of the 50/60 comme Fred Herzog, Ernst Haas, William Eggleston
Thanks to
Demetri Portelli, Alain Carsoux, my whole candadien crew, particulary to Dany Racine et David Dinel
Pierre Gill (2nd unit director/cinematographer) for his beautiful shots and plates
Tommaso Vergallo from Digimage/Paris
Crew
Production designer : Aline Bonetto Costumes designer – Madeline Fontaine Editor – Hervé Schneid
Makeup Artist : Nathalie Tissier
Operator/Steadicamer : Daniel Sauvé, Brett Manyluk (Alberta), Dany Racine(Alberta,Québec)
Stereographer : Demetri Portelli
Digital Engineer : Ben Gervais
Rig technician : Brian Cassar AC's
1.AC : Dany Racine assisté par Soupharak Keoborakoth et Isabelle Côté
2nd unit director/cinematographer : Pierre Gill
Gaffer : Sylvain Bernier (Quebec part 1), Martin Keough (Alberta), Francois Legris (Quebec part 2)
Key Grip : David Dinel
Equipment Cameras from Pace + Cameron Fusion-3D with Alexa cameras Log-C/ Arri Raw capture to Codex recorders Cameras Alexa M (1st unit) + Alexa Plus (2nd unit)
3D Rigs 3D Fusion/Combo Rig for Zeiss Master Primes
Steadicam Rig for Zeiss Ultra Primes Side By Side Rig (for aerial and landscape photography) with ORGANIC mirrors!
Fiberoptic cable 1000ft
Lenses set Zeiss Master Primes (pour leur qualité du piqué!), set Zeiss Ultra Primes for Steadicam rig Digital Lab Digimage Paris – Expand – active glasses
Dailies Grader Fabrice Blin Color Timer Fabrice Blin Lighting Equipment Michel Trudel Montreal