TRAILER
TRAILER US
TEASER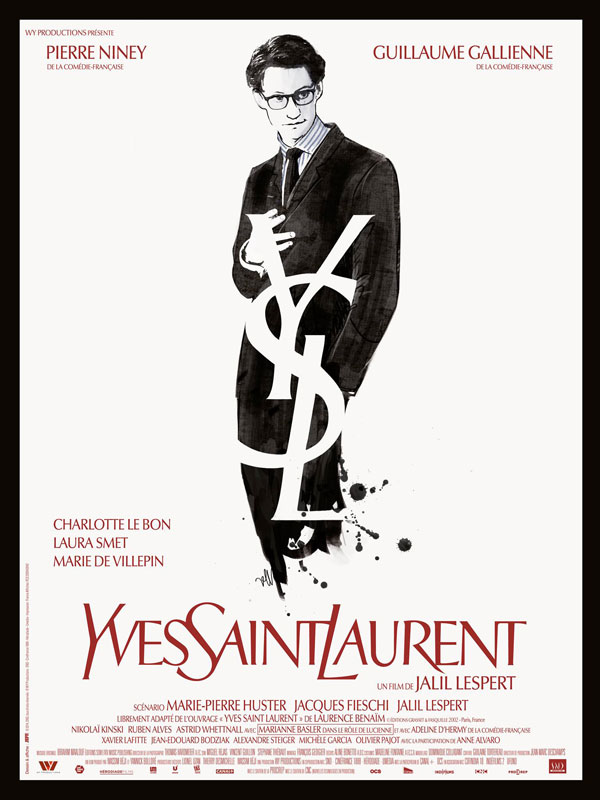 YVES SAINT LAURENT
2013. Director: Jalil Lespert
Starring: Pierre Niney, Guillaume Gallienne, Charlotte Lebon, Laura Smet, Nicolai Kinski
Production: Wy Productions-Wassim Béji
French Cesar Award 2015 – Nomination for Best Cinematography































Elegance and glamour !! These were the two words for our visual approach for the movie about Yves Saint-Laurent. The problem was that we had neither the time nor the budget to accomplish our vision ! As Jalil said « Either we renounce or we shoot this movie nevertheless ». So we did and tried our best.
The script is about the love story between YSL and Pierre Bergé. It's starts in 1958 and ends in 1976 with a prologue in 2009 when Pierre Bergé sold their art collection in Paris.
When we started to discuss the visuals for this film Jalil had the idea to start in black and white and wanted to bring in the color progressively during the WHOLE film. That was a great idea, but the film is not very linear in time. So we choosed to split the film in 3 different parts.
We watched at archives and photographs from these periods and did some testing, and finally came up with the following concept.
1958
Only little movement, very classical decoupage, no overshoulders, slow cutting,look very desaturated, quality of the image not too sharp, creamy and various aberrations (Hawk série Vintage 74 anamorphic)
1960's
More movement, more shots, overshoulder, a bit less desaturated but not too good reproduction of color, more plansequences
1970's
Look more modern, more color and more contrast, sharper with the the two Zooms Hawk V-Plus : 45-90mm et 80-180mm – front anamorphic
With my timer Lionel Kopp we played with various LUT's for these different periods and as a digital image lacks texture with added grain and glow to a different degree on his Nucoda.
INSPIRATIONS
Willy Ronis book « Paris-Couleurs», Peter Cornelius, Pierre Boulat, Jean-Loup Sieff, Richard Avedon, Guy Bourdin, Irving Penn, Paolo Roversi, Nick Knight. Patrick Swirc, Ann Deniau, Erwin Olaf
THANKS to
Alexandre Bscheidl from Vantage for his great help and their beautiful set of Vintage 74 anamorphic lenses and their 2 zooms V-plus-front anamorphic
Aline Bonetto for our collaboration
Madeline Fontaine for her beautiful costumes
Alain Carsoux – Compagnie Générale des Effets Visuels
Valentin Monge (yes papa !)
Lionel Kopp
My whole crew without them I would't have been able to accomplish this film
CREW
Production designer Aline Bonetto
Costumes designer Madeline Fonataine
Editor François Gedigier
Makeup Artist Dominique Colladant
Hair Ghislaine Tortereau
B camera/steadicamer Valentin Monge
1.AC Maud Lemaistre assisted by Agathe Corniquet and Ada Detraz
Gaffer Laurent Héritier
Key Grip Jean-Pierre Deschamps
EQUIPMENT
Cameras from Vantage Paris
Alexa Plus 4:3 and Studio 4:3 – Prores 2K – Scope
Lenses from Vantage Paris
Hawk série Vintage 74 anamorphic
2 x Zoom V-Plus : 45-90mm et 80-180mm – front anamorphic
Vantage Bluevision by Vantage
Bethke Filter by Vantage
Digital Lab Film Factory Paris
Dailies Grader Lionel Kopp+Elie Akoka
Color Timer Lionel Kopp on Nucoda
Lighting+Grip Equipment Groupe Transpacam